Hello green eaters,
Earlier this week, my housemates and I came across a daunting problem, the plethora of hardy greens in our produce refrigerator ( a silly but beautiful sight for a mini fridge) from our CSA subscription. This week we have taken it as our personal crusade to find more creative ways to use our greens, outside of delicious greek salads. So far there have been products such as grilled tuna kale wraps(uncooked greens substitute for bread!), mustard green, heirloom tomato and pecorino omelets, and a grilled swiss chard, corn, and red cabbage salad.
Hardy greens such as kale, chard, mustard greens, and dandelion greens, like spinach are fantastic when cooked down a little bit. Garlic, lemon and olive oil do wonders, cooked or uncooked. When consulting Heidi's cookbook, I found her advice was similar, but the comment thread was even more exciting. Check
it
out. Tonight I will be trying out the traditional indian coconut gravy greens from "Sunshinemom". Here's a simple but delicious recipe from 101 Cookbooks to get you goin.
Happy cooking!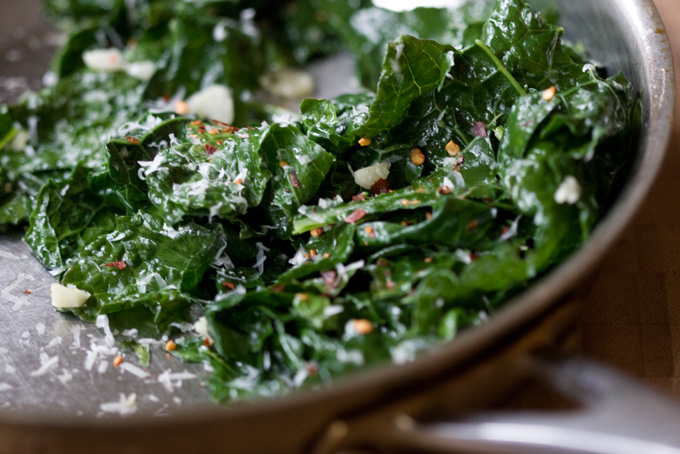 Garlicky Greens Recipe
If you are using spinach ignore the stem instructions below. With spinach I simply trim any long stems. Also, feel free to make this vegan and/or dairy-free by leaving out the Parmesan cheese. Toasted almonds or pine nuts are a great substitution (or addition).
1 large bunch of kale, chard
2 tablespoons extra-virgin olive oil
fine grain sea salt
5 cloves of garlic, crushed and chopped
1/4 cup Parmesan cheese (opt)
crushed red pepper flakes
To de-stem each leaf of chard/kale, grab the main stalk in one hand and strip the leaf from the stem all the way up with the other. I then tear the big leaves into bite-sized pieces, but you can use a knife for this task if you prefer. Wash the greens in a big bowl (or sink) full of clean water, rinsing and swishing to rinse away any stubborn grit and dirt. Drain, rinse again, and set aside.
Hold off cooking the greens until just before eating. Then, in a large skillet heat the olive oil. Add a couple big pinches of salt and the greens. They should hiss and spit a bit when they hit the pan. Stir continuously until their color gets bright green, and they just barely start to collapse - two, three, maybe four minutes, depending on how hot your pan is and how much structure your greens have. Then, just thirty seconds before you anticipate pulling the skillet off of the heat, stir in the garlic. Saute a bit, remove the pan from the heat, stir in the Parmesan, and add a big pinch of crushed red pepper flakes. Taste, add a bit of salt if needed, and serve immediately if not sooner.
Serves 2- 3.