Hello all,
In accordance with the mounds of fresh peas this season, it may be time to step outside the hummus dip. Here is a recipe for Elixir of Fresh Peas, a recipe I enjoyed cool for a toasty summer evening last week. This dish is quite simple and can be served warm or cold, depending on the sky's cool June gloom or warming sun. This is an easy recipe to riff off of, peas support a huge variety of supplemental flavors.
I took this recipe from "Local Flavors" a cookbook by Deborah Madison designed for farmers' market cooking. She is a great author and includes a great info on variations and many vegetable families.
Elixir of Fresh Peas
Serves 4-6
1 bunch scallions or 2 small leeks, including 2 inches of the greens, thinly sliced
5 large parsley stems w leaves
sea salt and freshly ground white pepper
1.5 lbs pod peas, bright green and moist looking
1 teaspoon unsalted butter
1/2 cup thinly sliced fresh onion or young leek
1/2 teaspoon sugar
truffle oil(optional greatness)
1. Bring 1 quart water to a boil. As it's heating, add the scallions, parley and 1/2 teaspoon salt. Add about 3 cups of pea pods as you shill them. Once the water comes to a boil, lower the heat. Simmer for 20 minutes then strain.
2.Melt the butter in a soup pot and add the sliced onion. Cook over medium heat for about a minute then add 1/2 cup of the stock so that the onion stews without browning. After 4-5 minutes, add the peas, 1/2 teaspoon salt, and the sugar. Pour in 2+1/2 cups of the stock bring to a boil, and simmer for 3 minutes.
3. Transfer the soup to a blender. Drape a towel over the lid and give a few short pulses to make sure it won't splatter. Then puree at high speed for 1 minute. Pour into small soup bowls and serve immediately(unless serving chilled) , adding a few drops of the truffle oil to each bowl.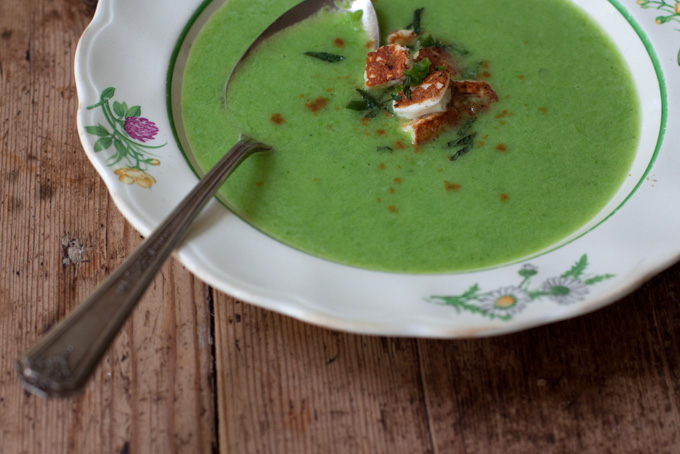 For a little fancier (but equally lax prep) variation of a
green pea soup
, check out the legendary 101 cookbooks. Tremendous recipe, I'm always impressed by this site.
Happy Cooking!